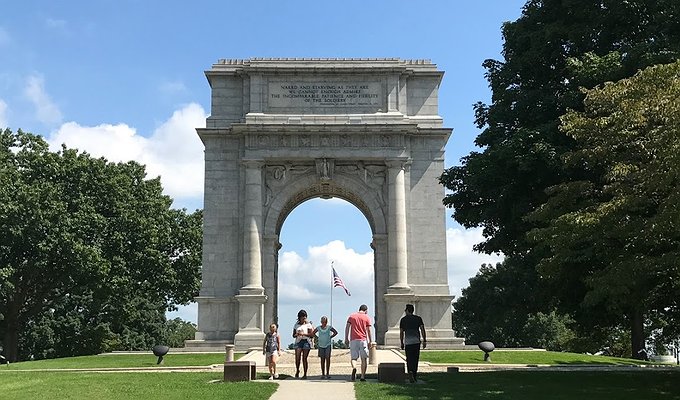 Valley Forge National Historical Park
This comes from our partner Philly Day Hiker. Check out their entire review of Valley Forge here.
Valley Forge served as the winter encampment of Washington's Continental Army in 1777. For history buffs, the park has a visitor's center and several reconstructed and preserved building from the period, including the house used as General Washington's headquarters. Many of the historical sites in the center of the park and are connected by the paved, 6.6-mile Joseph Plumb Martin trail.
For those looking for something more woodsy, two main options stand out: the River Trail just north of the Schuylkill, and the Mount Joy trail towards the southwest corner of the park. The River Trail is a flat, shaded path that follows—you guessed it—the Schuylkill river. My memory is that it's fairly quiet and you'll see a few old ruins along the way. There's also the unpaved but wider Schuylkill River Trail just to the north, which is great for walking and biking.
The Mount Joy option, on the other hand, is a hike to the tallest hill in the area. An old observation tower at the peak has been removed, but you'll still get a decent view of the landscape. You can also climb Mount Misery just on the other side of Valley Creek—this great post gives you step-by-step directions.
Photo by Lauren Hallden of Philly Day Hiker.